Suchitoto Overnight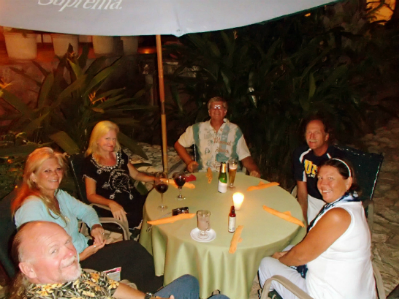 This is an event that we can easily organize. Minimum is six couples and up to ten maximum to stay at hotel Los Almendros in Suchitoto. We can plan our first day seeing the Fernando Llort gallery, visit the artist town of Illobosco or any other ideas the group has.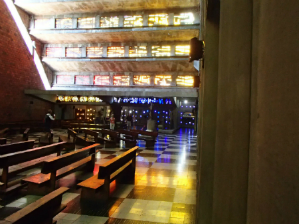 We then proceed to the colonial town of Suchitoto. We'll stay at hotel Los Almendros for two nights. The first night we have a wine reception and snacks around the pool.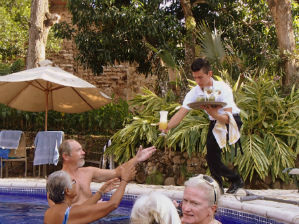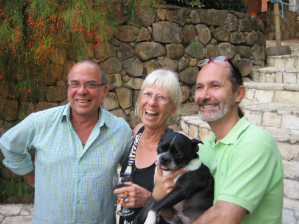 Afterwards you can choose to have the first night dinner at the hotel or where ever you like. Breakfast is included the following two mornings. You're on your own for lunch, but a set menu dinner the second night is included.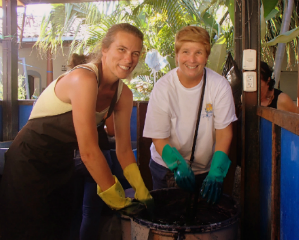 We can arrange a local walking tour, early morning birding, visit the Indigo dying shop where you can dye your own items, tour the lake or just walk around and soak up the colonial atmosphere. Other free time options are available.
If enough people are interested we are happy to organize events like these below. Some we can plan for free and some we all chip in for the cost.
Wine Tasting

Bring your bottle of award-winning red wine (no Padre Kino or repurposed box wine!) for a late afternoon blind wine tasting event followed by a no-host dinner. Not available on weekends or holidays.

Net throwing lessons

One of the local guys will help you learn to throw those round fishing nets. If you actually catch something you receive a fun prize. So far we have determined that the fish are safe from cruisers!

Cyuco racing

Partner up with a local and join a fun time racing a local-style dugout canoe. A nice way to really get to know the locals and make friends. We ask for a small donation for some prizes.

Pool games

Don't worry, we always come up with some fun games in the hotel pool.

Happy hour at the pool

Every day 4-6pm is 2x1 drink specials.

Dinghy raft up

You know what this is. Bring your drinks, some snacks to share while we enjoy the sunset. La Palma will donate a case of beer

Beach bon fires

Sunset happy hour on the 14-mile long beach - on the beach side of the hotel.

Happy Hour at restaurant Acajulta

Restaurante Acajulta is a little pricey by Salvadorian standards but it is the best seafood in the estuary. You can go by yourself or as a group. If a group wants to go we will try to get something special included. Bring your bathing suit if you want to enjoy their swim up bar.

Pupusas on the island

Every Saturday rain or shine after 4:30pm. BYOB - cocktail party at casa La Palma before pupusas. We'll have fresh cooked pupusas at a local home in a rustic setting.

Cook Your Own

Bring your steaks, fish, sausages or anything you want to BBQ. You can cook it yourself or sometimes the hotel supplies a chef for you. Side dishes available from the hotel. We'll need at least 6 couples and this is not available on the weekend or holidays.

Rio Lempa Panga Tour

We can rent a low-cost, covered panga for the day and tour the estuary with our final destination the entrance to the Rio Lempa, the nearby river. We can bring drinks, lunch, and of course bathing suits.

Local Festivals

All towns celebrate some kind of festival during the year. The most popular among cruisers is the Pinapple Festival and Mango Festival. We need a large group in order to rent a bus. For a very small group we can rent a large SUV or go in individual cars. Whatever you like.
This is just a sample of the activities we can organize for a couple or a group. Just let us know your desires.