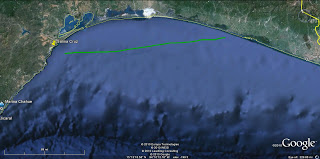 This gulf has a well deserved reputation for its ferocious winds and high seas but every year many boats make the 238 or so mile passage from Huatulco to Puerto Chiapas with the only complaint being that the weather is hot and the nightly shrimp boats working along the shore. With today's reliable long-range weather forecasting, it is easy to pick a safe crossing window.
The gulf has two opposing near-shore currents that run around 1.5-knots, more during a big blow. On the Huatulco side it gives you a lift up to Salina Cruz. Once you pass Salina Cruz you get the opposite current that diminishes the closer you get to Puerto Chiapas.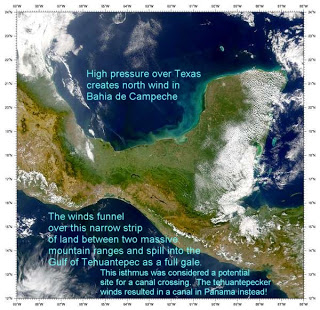 Weather Forecasting

We're not going to pretend to be expert Tehuantepec weather forecasters. You can use any number of weather forecasting sites like Magic Seaweed, Buoy Weather, Passage Weather, and Windy.com. Usually the group of boats waiting in Huatulco develop a consensus about the best time to depart.

Making the Crossing.

The best place to wait for a window is in Huatulco. Most people wait for a three-day or longer window before heading across. The safest approach is the one-foot-on-the-beach method. The difference between going straight across and following the beach is 25 miles. You can head north out of Huatulco in the early morning and arrive in Salina Cruz 12 hours later. We stay 1 ½ to 2 miles off the beach until we are near or reach Salina Cruz. Depending on the weather, you can decide whether to cut straight across at 16 north or continue to follow the shoreline. Your distance from shore will depend on the wind strength. For reference we have traveled coming from Chiapas to Huatulco in a 40-knot gale keeping in 30 feet of water, which translates to less than a quarter mile from the beach. The shore gradient is consistent so you can maintain this distance all the way around. If necessary you can anchor along the shore in 30 feet almost anywhere and we have done it three times.

The Tehuantepec winds seldom blow as far as Puerto Chiapas, so after you make the turn, the wind and current will diminish the closer you get to Puerto Chiapas. After Puerto Chiapas the adverse current stops and often you pick up an east setting one.

Strategy of 8 boats during the 2011 Rally

Eight rally boats departed Huatulco Feb 17 on a 3-day weather window. The above shows the various average routes taken. Those who hugged the coast had some nice land breezes but had to contend with shrimpers and fishing lines. Those who opted for straight across or a modified version of straight across had some favorable currents to help them along. In the end everyone arrived within 3 hours of each other and no one had any weather issues.

During the past rallies no one had any issues with their crossing. Just remember: get a good weather forecast and don't try to outrun a window.